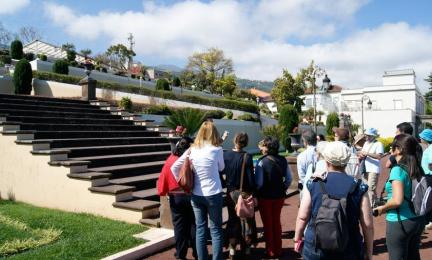 3.A) 'La Orotava, World Heritage Site. Monumental town with a traditional flavour '. Villa de La Orotava counts with one of the most important monumental historic centres of the Canary Islands and undoubtedly the most important one in the north of Tenerife. Founded at the end of the fifteenth century, its layout is one of its peculiar features, as it was designed on a slope that was used for the placement of ditches and mills that run through its urban heart. All surrounded by religious buildings, civil buildings and splendid manor houses that speak of the aristocratic character that La Orotava has had throughout its history.
This itinerary proposes a tour of the main patrimonial and monumental areas of the town centre, as we immerse ourselves in its history, legends and local customs. We will visit the Church of La Concepción, the Town Hall Square, the manor houses of Colegio Street, the 'Marquesado' Gardens with their imposing mausoleum as well as the Botanic Garden Extension, walking along its steep and cobbled streets.
Hours: 11:00 a.m., Tuesday. Spanish and English.
3.B) 'Masonry in La Orotava'. Learn about the mysteries of this secret society. In this tour you will discover the interesting history of Masonry in La Orotava, where it reached a great prosperity in the late nineteenth century. You will visit the main areas of its activity, including the imposing Mausoleum erected in honour of the mason Diego Ponte del Castillo, third marquis of La Quinta Roja, apart from the possible meeting place of this secret society, the Concepción Church, and the City Hall. In addition, in Masonry we find a complex symbolic language influenced by different traditions: Egyptian, Classical, Christian, Templar, Alchemical, etc., which was interpreted by this society as messages emanated from the Great Architect of the Universe. On this tour you will also discover some of these symbols, scattered throughout La Orotava's historic centre.
Hours: 11:00 a.m., Friday. Spanish.