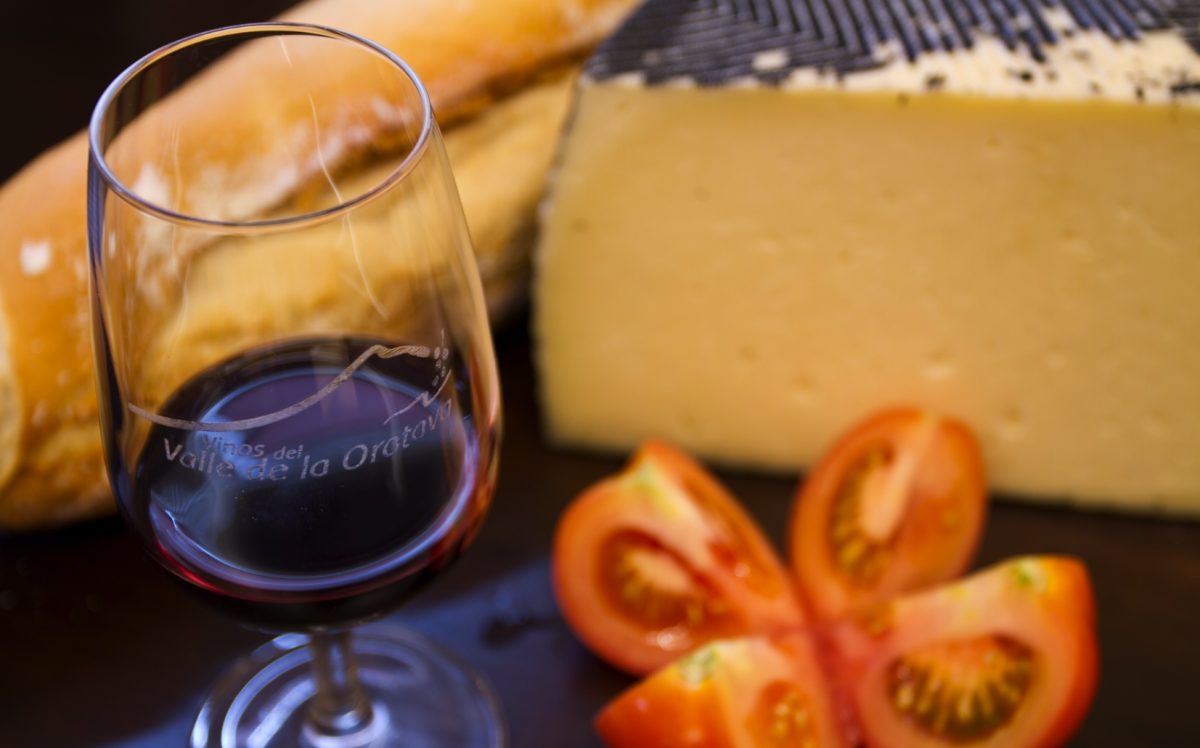 The wine produced in La Orotava valley has enjoyed a fair and well-deserved reputation through History. In the seventeenth and eighteenth centuries, La Orotava was the first winemaking centre of the Canaries. Its wines were exported to England and its colonies, to Germany, Holland, and to Spanish America. A high index of relative humidity, the existence of two layers in the trade wind currents, determining the formation of stratocumulus that provide constant cloudiness (atmospheric phenomenon traditionally called 'panza de burro'- donkey belly) and the original composition of the La Orotava Valley soils, give its wines a special taste and aroma, distinguishing them as quality wines that make a difference.
The La Orotava Valley covers a thousand hectares of vineyards, cultivated on slopes and dells, with grapevines attached to supporting structures, about 60 centimetres high, in the form of original multiple braided cords that can be 8 or more metres long, arousing the curiosity of nature and viticulture lovers.
White wines are produced (more abundant in the western area of the valley), straw yellow wines with amber tones, with fruity and fine aromas, very balanced in the mouth and with good aftertaste. Approximately in the same proportion, we have red wines (mainly produced in the eastern and central areas of the Valley), excellent young wines of ruby ​​red colour, fruity aromas, light, round on the palate and with a pleasant aftertaste, To a lesser extent rosé wines are also produced.
Traditional braided cord grapevines, unique in the world.
For centuries, the La Orotava Valley has retained the traditional arrangement of grapevines using the multiple braided cord system, which has become an integral part of the landscape heritage of the area, covering the slopes below Mount Teide and giving the wines with the La Orotava Valley designation of origin a special singularity.
The traditional braided cord is unique in the world and it is a braid that is made with the branches of the vine. The length of the vines varies from 3 or 4 metres in narrow places up to 15 metres if the vine is old and vigorous enough.
The production of wines protected by this designation of origin will be exclusively made with grapes of the following varieties:
Varieties of white grapes:
Preferred: Albillo criollo, Bermejuela or Marmajuelo,  forastera blanca, Doradilla, Gual, Malvasía Aromática, Malvasía Volcánica, Moscatel de Alejandría, Sabro, Verdello and Vijariego blanco or Diego.
Authorized ones: Bastardo Blanco or Baboso Blanco, Breval, Burrablanca, Listán blanco de las Canarias, Pedro Ximénez and Torrontés.
Varieties of red grapes:
Preferred: Castellana Negra, Listán Negro or Almuñeco, Malvasía Rosada, Negramoll and Tintilla.
Authorized ones: Bastardo Negro or Baboso Negro, Cabernet Sauvignon, Listán Prieto, Merlot, Moscatel Negro, PinotNoir, Ruby Cabernet, Syrah, Tempranillo and Vijariego Negro.
La Orotava Valley Designation of Origin Regulatory Board
In charge of the Promotion, Viticulture and Oenology of our wines and wineries.
Address: El Bosquito Recreational Park - La Marzagana Urbanization. Villa de La Orotava.
Tenerife. Canary Islands.
Phone: 34 922.30.99.22 / 23
Hours: Monday to Friday from 08:00 a.m. to 03:00 p.m.