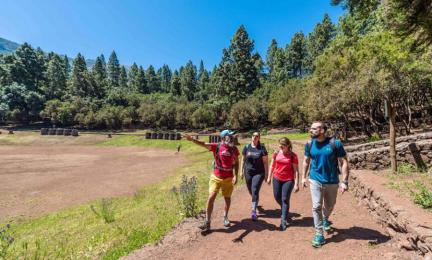 This is an attractive route that brings tourists to typical products such as 'gofio' (roast and ground cereals), cheese and wine, visiting different places and local businesses. 'The 3 Flavours of La Orotava Mid-elevations' is the name of the winning project in the section of national oenological gastronomy of the twenty-second edition of the Best Product of Active Tourism Competition, organized by FITUR (International Tourist Fair) with the collaboration of the 'Aire Libre' magazine. It is a route organized by the 'Patea Tus Montes' company, based in La Orotava, and it has the flavours and landscapes of La Orotava Mid-elevations territory as its main protagonists, an area that is far away from the spaces that are usually visited. The Pinolere Cultural Association, the Benijos Cheese Factory and the El Penitente Winery are involved in the project. This tour can be enjoyed by vehicle or on foot and it aims to show the three flavours that characterize La Orotava. Tourists come to the Benijos Cheese Factory to know, through a tasting, the traditional cheeses and then visit the Pinolere Ethnographic Museum where the neighbours accompany and introduce them in workshops allusive to 'gofio', typical product of the Canary Islands gastronomy. A tasting of traditional wine takes place at El Penitente family run winery, where you can also get to know the braided cord system, a technique used in La Orotava, unique in the world and already part of the landscape heritage of the Valley. And during this route you can enjoy the typical landscape of the mid-elevations and emblematic spaces such as 'La Caldera' or the Pinolere Natural Reserve.
Patea Tus Montes, hiking and adventure. S.L.U.
Telephone numbers: (+34) 922 33 59 03 (+34) 608 64 16 75.
Post Box: 264. 38300. La Orotava.
S/C de Tenerife. Canary Islands. Spain.